Message from the Director
Welcome to the Postgraduate Institute of Humanities and Social Sciences (PGIHS).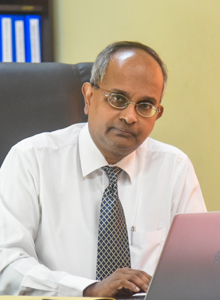 Teaching and research at PGIHS encompasses a wide range of disciplines within the Humanities and Social Sciences. This includes:
typical humanities and social science disciplines such as Archaeology, Economics, Geography, History, Philosophy, Political Science, Psychology, Sociology;


language and literature disciplines such as Arabic, English, Sinhala, Tamil;


religious and cultural studies disciplines such as Buddhist Studies, Greek and Roman Studies, Hindu Civilization, Islamic Studies, Pali, Sanskrit;


aesthetic disciplines such as Fine Arts;


and also more overarching disciplines such as Education and Law.
In addition to specific discipline related programmes, the PGIHS also offers programmes that are more inter-disciplinary in nature and targeted to professional groups. This includes programmes in Development Practice, Environmental Management, Human Rights and Multiculturalism, International Relations, Social Work and Sustainable Tourism.

These study programmes are offered under five Boards of Study; namely, the Board of Study for (1) Economics and Management, (2) Languages and Literature Studies, (3) Philosophy, Psychology and Education, (4) Religious and Cultural Studies and (5) Social Sciences.

Research at PGIHS mainly takes place within the MPhil and PhD research degree programmes in the above mentioned disciplines.

The annual student intake to all programmes is around 1000. About 800 students graduate each year.

If you are considering postgraduate education in the Social Sciences and Humanities, PGIHS will be able to offer you an intellectually stimulating learning opportunity within an experientially unparalleled environment.
Professor S.J.S. de Mel
Director, PGIHS