Message from the Director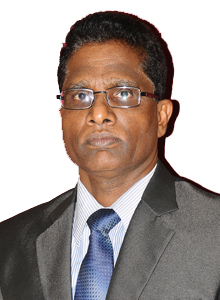 The knowledge and understanding of the Humanities and the Social Sciences is arguably the very the foundation of a world in which human values are fully realized leading to peace and prosperity. Established 2015 for providing postgraduate education in the Humanities and the Social Sciences, the Postgraduate Institute of Humanities and Social Sciences (PGIHS) of the University of Peradeniya today is in the lead among its peers.
Looking back as the first Director of the Institute I am proud to say that we have been a success in the mandate given to us. During the short period of its operations the PGIHS has established as an active player not only in postgraduate education but also in promoting research and contributing to national development. Today we are working in close partnership with government agencies, universities and research Institutes, both local and foreign, and other actors including civil society organization in number of issue oriented-research and in advisory capacity. The role played by our alumni in this area also needs special mention.
The Institute is actively moving ahead expanding its reach and activities and our achievements in the recent past speaks themselves of our success. To mention a few we have successfully won a five year Project funded by the Norwegian Partnership for Global Academic Cooperation (NOPART) to implement a Project promoting human rights in the country which includes student/staff exchanges and a Master's Degree Programme in Human Rights and Multiculturalism to be established jointly with the University College of Southeast Norway. Similar international links with Minnan Buddhist College and Sichuan University, both in China and American University in Washington D.C., are in their final stage. Several other similar initiatives with both local and international bodies are in the pipeline and I trust you will see the benefits of them during your stay with us.
Peradeniya is not only a university with a proud history but also considered as one of the most beautiful campuses in the world. As new students of this prestigious and innovative Institute of postgraduate education you have the opportunity to be part of a national venture enjoying the best of facilities in higher education available in the country. I wish to take this opportunity extend a warm welcome to you with an open request to do your utmost to get the best out of this opportunity and be part of the future of this Institute and the that of the country.
I wish you well in your stay with us.
Professor J.M. Ananda Jayawickrama
Director, PGIHS